Well as you can imagine, we have had a busy week.
Wednesday I got de-ported. No not that kind of deported, I have 3 branches of my family that were here prior to the Revolutionary War, so I don't know where I would be deported to. My port to get chemo I had removed. It was time. I had had it in me for nearly 4 years.
Thursday and Friday I was recovering from surgery and running around with the stuff that I do at the end of the week (grocery shopping and such). This week that included getting yarn to make the boys some hats.
Saturday and Sunday are always busy around here. So that is a no brainer.
Monday I got mastitis again. So I was down for much of the day, though Nathaniel had a weight check so I had to go to that. I didn't end up getting the antibiotic till 7 pm that night either.
Yesterday I was trying my best but I wasn't feeling well. So it was another down day.
Today I was better so I did school work with Max, and was able to finish one hat for Nathaniel!
I have realized that I haven't done "a day in the life" with Nathaniel yet. I hope to do this tomorrow with him. So hopefully I can post that on Friday.
Picking apples on Saturday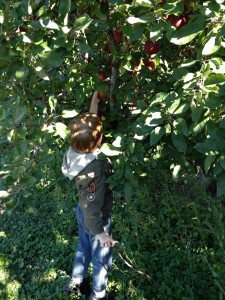 Nathaniel's new snowman hat!