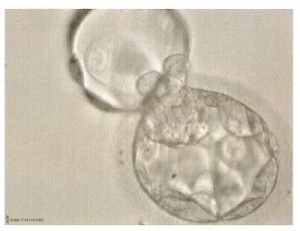 This is our little over achiever. It is the 5AA baby that was transferred.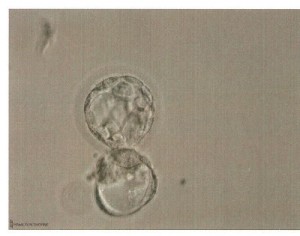 This quite possibly could be an overachiever once born but we will never know. This is baby that was grade 5BA that was transferred.
Frozen Embryo's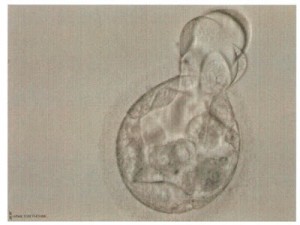 I will get the qualities on all of these next time I go in or when I get the call today on the other embryo's. For right now we are calling this baby "Baby H." Should we not get twins with the babies that are in me his name (as well as the other frozen embryo's may change.
I need to get up from time to time to make it so I don't get blood clots. So I am taking this time to scan in our little embryo's.
As far as my schedule goes this is what I will be doing in the next 2 weeks. I will have a progesterone and estrogen check on Saturday. This is a simple blood test that I will get the results in the afternoon. Next I have a progesterone and estrogen test on 2/1 or a week from Friday. Now knowing me, I will not be able to wait much past this date to test for pregnancy at home. Also this will be 15 days from my egg retrieval so I know that if I get a positive on this day odds are at least one took. My official beta (blood pregnancy test is on 2/5 at 8 am, results available after 2 pm and of coarse I will be posting that day.
In the meanwhile I will be treated like a queen from Tony. I was told that I can't even do laundry (I know if only I could be like this forever! Ha ha!) I can't exercise or anything. Which can make me very board but I have a ton of projects to work on and even more that I need to do the finishing aspects of (a blanket and my layette set for Alyzabeth.) So I should be okay. I did finish my maternity pants over the weekend but they are not ready for prime time since I had difficulty putting the elastic in so it would be completely in and the fabric flat without stretching the elastic. I figure if I have twins I will need that so if anyone has any suggestions on how to do this please let me know. I thought I would wear them around the house for a few days and that should help.
That is all the news I have for now. As always thank you for your prayers. I don't think I could have had a better cycle so hopefully this will mean we will be having at least one baby (but no more then 2) in September.
Jennifer