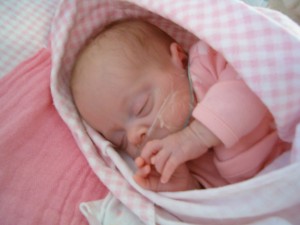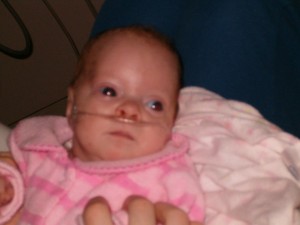 Emily had an okay day yesterday. She was desating a lot and so they tried various things with her until they found something that worked. First they tried mask c-pap (they use the mask instead of the elephant look c-pap) that didn't work. Then they oxygenated her bubble. That didn't work. Finally they gave her Lasix to remove extra water and that seemed to work. They were a bit surprised also since she didn't appear to have that much more fluid on her. They have since be able to wean her oxygen so she is about 80% through the canula and 55% through her bubble. I am able to hold her though and she seems to really like being out. However she has been mommy needy lately so unfortunately Tony hasn't been able to hold her as much as we like. Emily is continuing having a high breath rate though. Normally 70-80 or more per minute.
I asked the doctor about the brain bleed and the calcification yesterday. She seemed to think that it wasn't really there. She said that the blood vessels in the brain get bigger at this stage in development and that the Ultrasound reader mistaked that as a bleed. She also doesn't believe that there is calcification on the brain as well. So that is why she didn't mention it. She has also discussed this with the doctor who is head of the ICN and he agrees. She doesn't believe it is worth getting an MRI from her either. So that was all good news.
The doctor is also trying various things to help her lungs. The two medications that she is receiving are delivered via a "puff". This is just like Primatine Mist if you have ever taken that or had to take a similar product for a really bad cold. Well puffs work great if your able to control your breathing so that you get the full dose of medicine, unfortunately Emily HATES the mask. She doesn't even like it being close to her. If she sees it she screams. Therefore often she holds her breath when it is on. This makes giving her medicine that way difficult. Luckily one of the respitory therapist who is always tinkering was on yesterday. He modified a device that they call a spacer. It is basically a long tube (the doctor said they used to use toilet paper tubes for this. I could see why it looked like one only clear) that allows Emily to slowly take in the medication. Therefore even if she holds her breath the medication will go in. There are problems with this though. You can't see the medication, therefore you can't tell if she actually got it, therefore you are guessing. Also if she wiggles too much the medication will not stay in the tube regardless. They are thinking about increasing her dose of these medications since she is not getting all of it anyway.
We haven't heard the results of the urine test. We expect them on Monday.
I decided that since the storage room can't find the Habermen Nipple (a nipple that the speech therapist recommended) that I would go out a purchase a similar product that I know about. The Habermen nipple for those who don't know is a variable flow nipple that you can change the speed that Emily can drink simply by turning the nipple in her mouth. I recalled that Advant bottles have a similar nipple (I remember because they always confused me). So I brought those in for Emily yesterday. She has yet to try them out but hopefully it will help her.
In other news, we are getting our second vehicle today. Tony was not really comfortable with me not having a car when Emily comes home. She is going to have many doctor's visits and it wouldn't be fair to her to have to take daddy to work then go to the doctor then pick up daddy again. This would be really trying when she is on oxygen too. So we are buying a Honda Odyssey. We are getting one with cloth interior (which is soo soft that if it were a blanket I would have got it for Emily!!!) The color is Desert Sand, or beige with ivory interior. This will match the carseat well and works well with the name Maya. Those who don't know I name everything. I have wanted a minivan for years and decided last year that the minivan's name would be Maya. Our current car, a Camry, is Sally.
Today is also Emily's big aunt Jazmyn's birthday. She turns 5 years old today. Happy Birthday Jazmyn!
Oh one final thing, the doctors are still trying to get her home by Christmas. This is our goal. Please pray that we will be able to have our little girl home by this Christmas. Thanksgiving was okay but I would hate to have to spend my favorite day of the year not being able to be with my little girl for the whole day. The way I figure from what I have learned about her discharge, if she is not ready (or about ready) by December 13th then she will not come home for Christmas. The reason for this is we need time to get the home oxygen set up, as well as the monitors and such. Typically they have told us we would know about 1 week before she comes home that she is going home.
Thank you for your continued prayers!
Jennifer