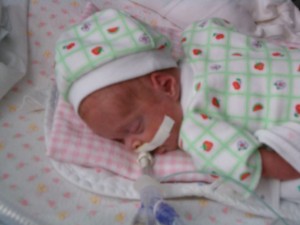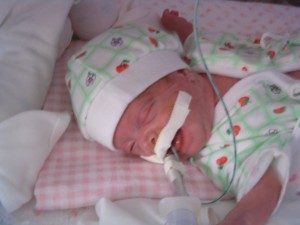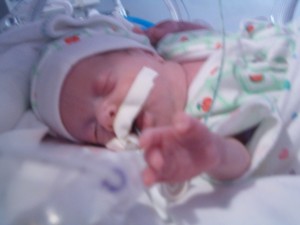 . . . of the oscillator! She was feeling much better today. This evening, Jennifer was singing and playing with Emily. Emily started smiling a lot. She was also extremely active and was constantly in motion until we left to come home. We've been told that the doctors have decided that if she self-extubates once more, she will be moved up to the CPAP! (hooray!) Her desats were also different today. She didn't seem to be having bronchospasms, but was very active and smiling. When her saturation levels dropped into the 60% range, she would stop moving and come right back up to the 90% range on her own. Dad figures that she was having fun and wore herself out, needed a little break, and then started over again. The settings on the ventilator are also the lowest that we've seen them at. It's only giving her 40 breaths per minute, but the sensors show that she is getting between 50 and 70 breaths per minute most of the time, so her lungs are doing a lot of work over the ventilator.
Emily's eye exam also went well. The eye doctor has decided that her retinopathy is in zone 2, which is less serious, and remains at stage 1, so it does not appear to be progressing. We are praying that she can make it past 36 weeks, 5 days without needing surgery.
Emily has also grown out of the smallest size of preemie outfits (micro). We took her first three sets of clothing home with us tonight because our little girl is growing so fast! Tony would like to point out that he picked out the outfit Emily is wearing tonight. Jennifer wasn't sure about it at first, but the nurses were all commenting on how cute she looked.
Tony