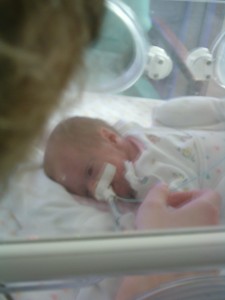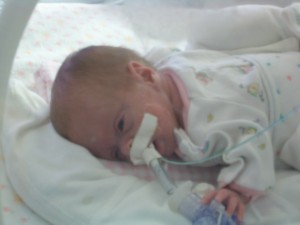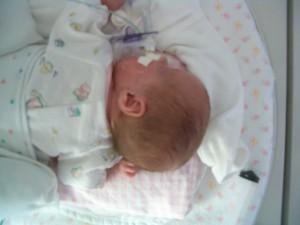 Emily is now ten weeks old. She had an uneventful day, but her nurse said she was bad last night. Apparently she was working on a pooh when she got fed. Long story short – there was a big mess culminating in yet another reintubation.
Jennifer was finally able to come back into the nursery after getting over a cold. Emily was very excited to hear Mommy's voice and wanted to squeeze her finger. Jennifer was cupping her hands over her when we had to leave for the shift change. When Mom took her hands away, Emily started flailing and crying (though she still can't scream). Apparently she really missed Mommy!
Today's pictures feature Little Miss Emily wearing one of the new outfits one of her grandmothers got for her. (She wasn't able to close her eyes quick enough to avoid Daddy getting a good picture.)
Although the developmental specialist hasn't evaluated her yet, we've noted that Emily moves her arms or legs together in tandem, with each limb mirroring the other. Also, when she's on her belly, she gathers her arms and legs underneath her and tries to push herself up, which is a prerequisite for crawling. The nurses and respiratory therapists try to discourage this behavior because they're worried about Emily disconnecting herself from the oscillator, which she has managed to do by herself several times already. We're debating whether she does it because she wants attention or whether she's just sick and tired of being shaken by the oscillator.
Tony