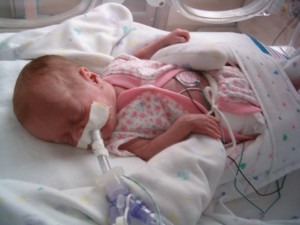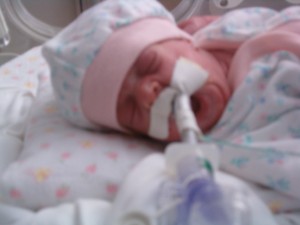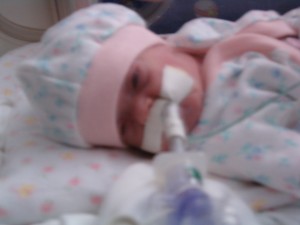 Emily now weighs in at 1190 grams (2 lbs, 11 oz.)! She's growing out of her size micro clothes. (You can see her almost bursting out of her outfit in one of the pictures.)
Not too much exciting has happened the past few days. Her oxygen requirements have pretty much been in the 40-50% range, and she had a few days (nights) this week where she didn't really have any desats at all. Yesterday and today during the day however, she's been back to her old habit of desatting every five minutes or so and coming out of it on her own. She had another explosive diaper yesterday. The poor victim was the same nurse she had on Thursday, and she hadn't had a BM since then, so we figure that she's been saving them up for this particular nurse.
Emily has another eye exam on Tuesday, and tomorrow a new doctor takes over her care for the next three weeks. So far, she's had Dr. Optimistic, Dr. Pessimistic, and Dr. Conservative. We'll see what tomorrow brings us.
Also, Jennifer modified the settings on the blog so visitors should be able to post comments now.
Tony