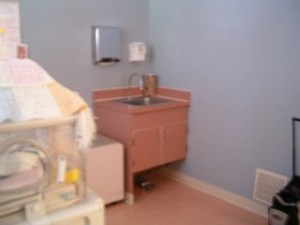 This shows her sink and to the left above her crib you see her white board.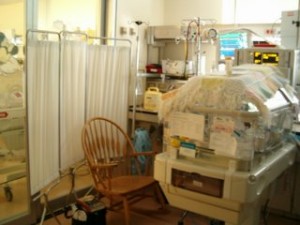 This shows her window and doorway.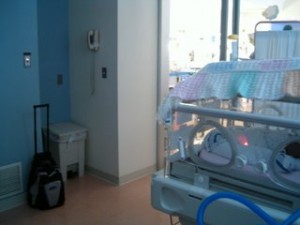 This is of Emily and her doorway leading to her "room."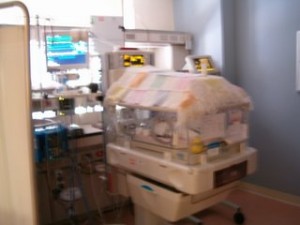 This is a picture of Emily's bed and window beyond. If you look to the very right you can see the white board which has the information I previously described (see posting "Emily's Room").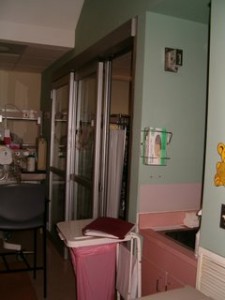 This picture is of the doorway leading to "Emily's Room."
Emily had a big day yesterday. The sample of her lung secretions that were taken the day prior showed white blood cells (previously there were none). So she was started on an antibiotic as a precaution for a lung infection. They also gave her a new ETT tube (her last one was over a week old, that is her breathing tube) as a precaution with the infection. The took a blood culture to make sure any infection had not spread to the blood as well.
She also had a sample of some fluid that was coming from her eye cultured. We should know what the results of that are (preliminary at least) today. I had noticed that for the last 2 days that she was weeping from particularly her right eye. They started putting ointment in her eyes as a precaution as with that as well.
Aside from that she also had to be retaped (breathing tube) and fed every 2 hours and had at least 2 new tubes for her feeds inserted. Not to mention the blood gases that they were taking for the CO2 levels (which have been high and they can't figure out why). She was having something done every 30 minutes! If that were not enough, a baby on the other side of the nursery was screaming all day and there was a jackhammer working away outside her window. The noise from both of these was slightly muffled but it was still loud in her little room. Poor girl couldn't get any sleep! Needless to say I didn't get to hold her last night. I hope to get the chance today. We will have to wait to see. We have been told she had a good night.
Sorry for no new pictures of her today. She looks about the same and I did take video of her today instead of actual pictures.
Jennifer
P.S. She does have a new quote of the day but I don't remember how I worded it so I will post it later.